NEW CHALLENGES
I really, really don't like winter. Up until January 1st, 2021 I had only committed to one challenge in my life. That one challenge was a couple years ago with a friend in another state. He and I had cold showers daily for a month. It was a challenge because I find it uncomfortable. But I liked it in some weird way. January 2021 was coming up and I was internally inspired to lean into my discomfort with being on the east coast in the winter months. So I am nearing the end of my month challenge of walking everyday no matter what the circumstance or weather. With a few days left, I may just keep going for another month. I do the walk before anything else, first thing in the morning, with a book reading to me in my headphones it is nearly trance-like or meditative for me. The morning routine energizes me all day!
I will post my new February challenge on Instagram February 1, 2021! Day by day is the way! But I am kinda liking this challenge thing.
Inside this PBF-N blog #5:
Episode 3 of Nut-Nola and Seed-Nola Deep Dive: Benefits and Fun CASHEW Facts
The Benefits of Walking and Exercising Daily
Introducing New Merch, New Friends, and New Affiliate to the PBF Website
In September 2020, I started a new continuing thread of episodes. These are the deep dive…fun facts and benefits about Nut-Nola ingredients. There is a lot to reveal about the ingredients in Nut-Nola and Seed-Nola, but I chose to start with Nut-Nola ingredients! I created the recipes to provide performance foods made from real food ingredients only! These ingredients are hiding in plain sight. They are amazing though. After researching the ingredients I was amazed that we don't tap into these foods for taste and benefits more than we do as consumers of foods. Each and every ingredient has a story.
Episode 1 was about Brazil nuts. Episode 2 was about hazelnuts. Check out their amazing stories. You can go back to the past 2 blogs to read about the incredible Brazil Nut tree that grows 61 meters and lives as long as 500 years. The Brazil nut's brain health benefits are incredible as well. Don't even get me started about the USA native Hazelnut's bone and brain health benefits. These foods is underrated for the benefit it plays in our optimal health and even the planet as you will find out.
Today I write about the curious apostrophe-shaped CASHEW.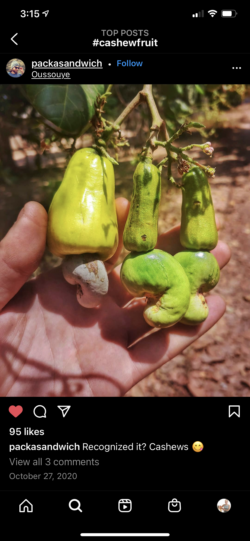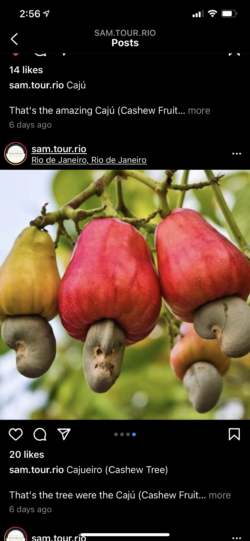 Fun fact number one: a CASHEW is not a true nut. It is a "false nut" or drupe because its shell is not a hard shell like a hazelnut with the dry nut meat inside the hard shell. It is a single seed at the bottom of what is known as the cashew apple.
The cashew apple is a juicy fruit and can be eaten although it is said to have an acquired taste. The seed being the cashew is wrapped in a toxic phenolic resin, a shell of sorts, that must be carefully removed before eating the cashew inside. Typically the caustic outer lining of the cashew is burned off when being processed for markets. All cashews therefore have been cooked, even when labelled "raw." The term "raw" refers to the fact that it has not been browned or roasted.
Among the cashew family members are the mango and pistachio. They are in the family termed Anacardiaceae (pronounced: anəˌkärdēˈāsēˌē). The common name "cashew" is derived from the Tupian language of South America "acaju" meaning "nut that produces itself."
I think about an ancient person who first tried to eat the cashew seed. She pulled it off the bottom of the cashew apple. Then peeled the layers of protects sheaths to find the little apostrophe seed inside. Then she took a cautious bite between her teeth only to experience a harsh burn from its toxic skin. How ingenious to burn off the skin in order to eat the sweet creamy seed we call cashew.
There is evidence the Portuguese brought the cashew to India in the 16th century. Ancient carvings found in Bharhut, India depict a cashew image from 200BCE. Fossils from millions of years ago also indicate the cashew was living in the Americas, Africa, and Europe.
Top three cashew producers now are Vietnam, India, Ivory Coast.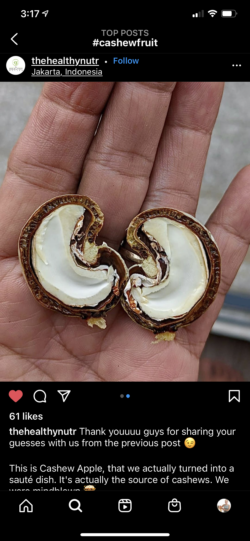 The amazing cashew! Just knowing that one cashew is paired with one cashew apple to me makes this false nut truly amazing and respected. The reasons why I have cashews in Nut-Nola are its sweet, creamy taste and texture because taste is important. But also because cashews are a natural source of magnesium, copper, zinc, phosphorus, iron, folate, and healthy dietary fats. The benefits from these fats and minerals are benefiting overall cardiovascular, muscular, bone, and metabolism fitness. Your internal super center of wellness.
FUN CASHEW FACTS:
Good fats in cashews help lower "bad cholesterol" or HDL and helps lower blood pressure.
Cashews are a natural food source for vitamins C, B (thiamin, riboflavin, niacin), E, and K.
Excellent source of magnesium and zinc the cashew supports immune health.
Cashew skin or shell on the cashew is used to produce lubricants, waterproofing, paints, and arms production.
Chutneys, jams, liquor, and juices are made with the cashew apple.
The cashew plant is related to poison ivy,
Primary pollinators of the cashew are bats and insects.
The cashew plant is a evergreen tree.
The Benefits of Walking and Exercising Daily…this is me!
The Mayo Clinic lists these benefits:
Improve mood
Improve balance and coordination
Strengthen bones and muscles
Prevent or manage various conditions, including heart disease, high blood pressure and type 2 diabetes
Maintain a healthy weight
The Harvard.edu lists these benefits walking outside in cold weather:
Improve endurance
The heart works more efficiently in cold weather
Access ambient natural light for mood while days are short
Cold temps are studied to show white belly fat transformation to calorie-burning brown fat
Maintain a healthy weight
My results of 27 days (and still going) of winter morning walks:
I DO NOT like cold weather and I am doing this in the DC area where the winters are extremely cold for me.
I didn't know if I could keep it up, but promised myself I would.
I have not missed a day!
I get up and out every morning – mostly. There has been one day I could not get out until the afternoon so far.
It is exhilarating.
I don't like dressing in the many layers and do it anyway.
I am warm and very comfortable outside in my layered clothes.
I average an hour because I like it!
I would do it even if I didn't like it but for a shorter walk, because of how it makes me feel.
It is a wonderful start to my day.
I have burned off fat.
Yes, I will keep it going in February.
NEW MERCH ANNOUNCEMENT!
Inspire you home gym with a new original poster for sale on this website and no other store. I created this poster to decorate and inspire your home gym.
It is about two concepts: Power & Balance.
The main image is an image of a ballerina holding boxing gloves in one hand and ballet shoes in the other hand.
The boxing gloves represent POWER while the ballet shoes represent BALANCE.
When you work out it is important to exercise both for physical power and for balance. Exercising requires the right mental focus also.
Mental focus is represented with ideas of "A Way Of Life," followed by the power of strength and the balance of stability.
Power of virtue and the balance of poise.
Power of force and the balance of harmony…Power of energy and the balance of self-possession.
The color pallet is a focus strength through values of grey, black, white, red.
NEW AFFILIATE ANNOUNCEMENT!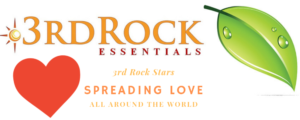 Check out this interview with founder Dr. Guerry Grune.
https://3rdrockessentials.com/collections/all-items
Skin products you can eat! They are made with the highest quality topical skin ingredients for healing and preserving your skin.
First aid ointment, sunscreen, itch relief, and even silver spray for masks! Deodorants, breath fresheners…even diaper rash treatments! These products were created by Dr. Guerry Grune who is a health-conscious, earth-conscious doctor with a Ph.D. in chemical engineering. All the 3rd Rock essentials ingredients are good for you and bad for bacteria and viruses.
They are all cruelty free, made in USA, food grade ingredients.
This means no parabens, aluminum, petroleum, synthetics, perfumes, preservatives, alcohol, talc. ONLY QUALITY, FOOD GRADE INGREDIENTS.
Try the Silver Excelsior Serum made with chelated silver oxide infusion for immune support. Dr. Guerry Grune is someone I have known for several years and his products are disruptors of the sunscreen and personal care industry. Unmatched for their quality, effectiveness, and kindness to humans and earth.
Click here to order now with a 20% discount!
When ordering use code when you check out: POWERANDBALANCE20
NEW FRIENDS FOR YOU TO GET TO KNOW WHO HAVE BENEFITS FOR YOU!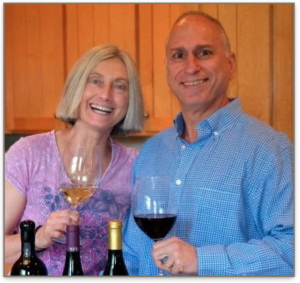 Wine and foot massages! How does that sound?
Wildcrafted Wines is a company owned by my two dear friends Laura and Terry. They have been curating the best of small batch Napa Valley wines for decades. They are so knowledgeable about wine and deeply knowledgeable about Napa and Sonoma Valley wines. These are primarily sustainably grown and organic farms in these well-known wine producing valleys. But what isn't well known are that there are many small batch, award-winning wines and wine makers in these regions. You will never see them in stores and mostly in local high-end restaurants if anywhere else. You can have these wines delivered to you! Contact Laura and Terry, they want to hear from you! Click here to learn more about Wildcrafted Wines. Please mention Power & Balance Fitness and Nutrition when contacting Laura and Terry.
Brigitte Wiss is a professional holistic and certified reflexologist since 2000. Reflexology is the science of healing
through feet, essentially. I have been recommending her for several years now. As a part of my experience recovering from an acute sepsis episode and a Lupus flare since 2011, I used a number of therapies in my recovery. The result is my ultimate, complete and total recovery. Brigitte's therapies were a valuable part of my recovery. Now I use Brigitte's reflexology for body maintenance of my life as a physical trainer and one who exercises and is active regularly. Imagine having feet that are not their best! Feet are essential for an active lifestyle. Call Brigitte at 703.849.8422 if you are in the Washington DC – MD – VA area for your appointment. She is located in Vienna, Virginia. Want to learn more about Brigitte Wiss? Click here. Please mention Power & Balance Fitness and Nutrition when contacting Brigitte.
NEW UPCOMING COLLABORATION!
Working out in style and functionality just makes for a better experience, right?
I am always looking out for workout clothes that are like a second skin and also get noticed. Born Tough was super nice to reach out to me last week. They are a self-described top class fitness apparel company located in Los Angeles.
So I checked out their website and really like what I see there. They have an intention to reshape the sportswear industry with clothes that fit like a glove. For me, a boxing enthusiast, another reason to be excited about Born Tough is the other company they are connected with — Elite Sports.
I will be super excited to tell you about the clothes when I receive them from Born Tough. My choices to try is their Hoodie, Bottoms, Muscle tank. Take a look here for women's line of gear. Check out these links they suggested too: Born tough, workout hoodies, workout clothes. Stay tuned for my reviews in the upcoming blog and on Power & Balance Fitness IG and FB! Social media links are all over my website to find me best go to IG an FB.
Next blog topics (partial list):
Wearing a Mask and Exercising Facts to Consider
Learn To Do A Push-Up: From Beginner to Advanced
Check Out a Home Gym: An Empty Room Converted to a Simple Home Gym
RESOURCES
https://www.nutrition-and-you.com/cashew_nut.html
https://www.organicfacts.net/health-benefits/seed-and-nut/health-benefits-of-cashews.html
https://www.medicalnewstoday.com/articles/309369#benefits
https://www.researchgate.net/publication/329183014_Early_History_of_Crop_PresenceIntroduction_in_India_III_Anacardium_occidentale_L_Cashew_Nut
https://www.mayoclinic.org/healthy-lifestyle/fitness/in-depth/walking/art-20046261